SOUVENIR
A fantasia on the life of Florence Foster Jenkins
by Stephen Temperley
Starring Helen Noonan and Stephen McIntyre
Directed by Peter J Adams
Australian Premiere
In the world of vocal music, there are strange and beautiful things.
In 1944 Florence Foster Jenkins stepped onto the world's leading concert platform, Carnegie Hall. The world has not stopped talking, indeed laughing, about that night. It doesn't matter that she couldn't sing – what matters is that she dared to dream.
Souvenir imagines events surrounding the poignant and funny story of the musical career of Florence Foster Jenkins, a wealthy New York society eccentric of the 30 & 40's who suffered under the illusion that she was a great coloratura soprano – when in fact the opposite was true. Nevertheless her annual charity recitals at the Ritz-Carlton and performances at other venues brought her cult status, especially as news of her unfortunate singing spread, culminating in her legendary sold out concert at Carnegie Hall.
"A surprisingly affecting comedy about a lady
who became a legend"
New York Times
Helen Noonan (Phantom of the Opera, La Traviata, Recital), one of Australia's most accomplished leading ladies, is joined by internationally renowned pianist and musical director Stephen McIntyre AM as these two outstanding performers bring this incredible story to life on stage.
Hilarious, surprising and deeply moving, Souvenir is a remarkable journey through an extraordinary life.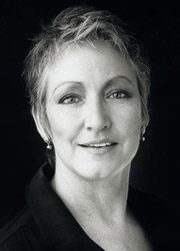 HELEN NOONAN
Helen Noonan is a singer and actress who has been performing since childhood and who graduated from the National Theatre Drama School in 1983. She also trained as a singer with several distinguished teachers in Australia, London and Paris. Helen has performed extensively in Opera and Musical Theatre, including her acclaimed performance as the ghost of opera in the Australian and international tours of "Recital", which she devised with Douglas Horton for ChamberMade Opera and which she performed in such far-flung places as Bogota to London to Hong Kong and Edinburgh, as well as all over Australia. She has also performed roles as diverse as Violetta in La Traviata and Carlotta, the neurotic diva, in the original Australian production of Phantom of the Opera – a role she performed over 1400 times – as well as appearing in many other musicals and operas including "The Venetian Twins" (directed by John Bell); "Love Burns" and "Trouble in Tahiti" (directed by Neil Armfield) and "Lady Macbeth of Mtensk" (directed by Francesca Zambello for Opera Australia).
An enormously experienced cabaret and concert artist, Helen has recorded two solo CDs: Woman's Song and A Classic Case of Love.
Helen is also an accomplished actress who has appeared in productions of Shakespeare, Euripides, Oscar Wilde, Peter Schaffer (Equus), as well as contemporary works, such as David Hare's play Breath of Life for the Tasmanian Theatre Company in 2011, directed by Julian Meyrick, which Helen also produced.
In addition to Recital, Helen's long career features a number of other self-devised and collaboratively-devised new works such as Shakespeare Sung, settings of Shakespeare by Australian composer Alison Bauld, and most recently Voicing Emily – the life and art of Emily Dickinson, which features her poems and letters, set by composers Jane Hammond, Greg Mason and Eddie Perfect. Performances of "Voicing Emily" are taking place at the Melbourne Recital Centre in August and at the Port Fairy Festival in October of 2012.
Having received a Churchill Fellowship in 2003, in 2011 Helen was awarded the Alcorso Foundation Arts Residency which allowed two months research in Italy on two new performance works – The Loves of Barbara Strozzi which is being commissioned privately from Calvin Bowman, and Fi Fie Fo Franca Rame from composer Jane Hammond.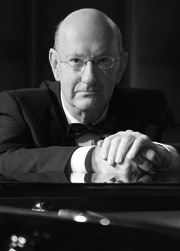 STEPHEN MCINTYRE AM
Stephen McIntyre is one of Australia's most eminent pianists and teachers.
After initial studies in Melbourne, Stephen worked in France and Italy with Nadia Boulanger, Arturo Benedetti Michelangeli and Guido Agosti. He has performed as soloist and chamber music player in many countries, and could have forged an international career, but rather returned to Melbourne in 1977 to take up the post as Head of the Piano Department at the Victorian College of the Arts, where he remained until 1992.
Stephen McIntyre has performed as concerto soloist with all major Australian orchestras; he has performed with violinists Valery Klimov, Viktoria Mullova, and Nelli Shkolnikova, and for more than 20 years with the renowned Dutch cellist Anner Bylsma. His cycle of the complete piano music of Ravel won the National Critics Award.
A founding member of Australian Chamber Soloists, Principal Artistic Advisor for Musica Viva during 1995/96, and Director of the chamber music program for the Melbourne International Festival from 1989-99, Stephen was also Artistic Director of the Port Fairy Spring Music Festival from 2005 till 2009.
Stephen is now Associate Professor in the Faculty of Music at the University of Melbourne and is principal fellow at the Conservatorium of Music.
In 2003, he was the recipient of the Sir Bernard Heinze Award for distinguished contribution to music in Australia, and in 2007 he was made a member of the Order of Australia (AM).