Sydney Opera House Babies Proms: MEETING MOZART
Produced by CDP Theatre Producers
Starring Simon Tedeschi
Written by Simon Tedeschi, Eva Di Cesare & Tim McGarry
Directed by Eva Di Cesare
Mozart heads overseas!
CDP is thrilled to announce that following very successful 2014 & 2015 Sydney seasons, Sydney Opera House Babies Proms: Meeting Mozart will be touring to the United Arab Emirates in 2015.
Watch with delight as renowned pianist Simon Tedeschi assumes the persona of the musical wunderkind himself in this delightful production direct from Sydney Opera House.
Meeting Mozart introduces young music lovers to a range of Mozart's music, from variations on 'Twinkle, Twinkle, Little Star' to his great orchestral pieces. Audiences will meet all the instruments in the Babies Proms ensemble along the way, and discover some of our best-known and loved classical music.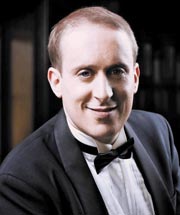 SIMON TEDESCHI
Simon Tedeschi is one of Australia's most renowned and sought-after pianists, awarded several prestigious prizes including first prize in the Keyboard division of the Royal Overseas League Competition (UK), Symphony Australia's Young Performer of the Year Award, and the Legacy Award from the Creativity Foundation (USA). Also recipient of a Centenary of Federation Medal, Tedeschi has performed in major concert halls throughout Europe, North America and Asia, and for world leaders such as George W. Bush, Vladimir Putin, Nelson Mandela, and the Dalai Lama.
As soloist, Tedeschi regularly performs with orchestras around Australia and worldwide, with conductors including Richard Bonynge, Alan Gilbert, Jun Märkl and Sir William Southgate. Based in the USA for several years, since returning to Sydney in 2010, Tedeschi has performed for the Sydney and Adelaide Symphony Orchestras, Sydney Opera House, Melbourne Recital Centre, Musica Viva, Queensland Music Festival and numerous concert series around the country.
Highlights of 2014 include a return season for CDP Theatre Producers as Mozart in the Sydney Opera House's Babies Proms series, Melbourne Recital Centre's American Songbook series, a new solo production for Monkey Baa Theatre called 'Pianist & Prankster', regional touring for Musica Viva, for Recitals Australia (Adelaide), the Concourse (Sydney), Joan Sutherland Performing Arts Centre, Riverside Theatres with renowned jazz multi-instrumentalist James Morrison, and performing the Grieg piano concerto with Sydney Youth Orchestra.
His wide-ranging discography includes acclaimed recordings of concerti by Grieg, Tchaikovsky and Mozart, and solo albums, Gershwin and Me and Gershwin: Take Two, and Tender Earth (ABC Classics), all making the top 5 in the ARIA and Limelight Classical Charts, with this last selected as 'Editor's Choice' in Limelight magazine, and 'CD of the Week' on both ABC Classic FM and Fine Music 102.5 FM. Gershwin: Take Two was also nominated for a 2014 ARIA Fine Arts Award (Engineer of the Year/Virginia Read).
Tedeschi also played the hands of acclaimed pianist David Helfgott for the Oscar-winning film Shine, directed by Scott Hicks.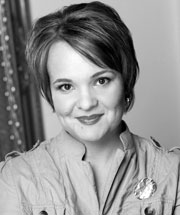 MICHELLE DOAKE
Since graduating from The National Institute of Dramatic Art (NIDA) Michelle has worked extensively as an actor, singer and voice over artist.
She is well known on the Australian stage with theatre credits including Arcadia, Dead White Males, The Wharf Review and The Wonderful World of Dissocia for Sydney Theatre Company; A Little Night Music for Melbourne Theatre Company and IMG; The Winter's Tale (1997 & 2014), A Midsummer Night's Dream, Measure for Measure, The Merchant of Venice and Macbeth for the Bell Shakespeare Company; Japes, Birthrights, Camp, Cruise Control and Absent Friends for Ensemble Theatre; Nine productions for Marian Street Theatre including Mrs Warren's Profession, Separation, Talking Heads and Crimes Of The Heart; Stories From Suburban Road and The Corporal's Wife for Perth Theatre Company; Mack And Mabel at the State Theatre; Falling From Grace for Playbox. Other productions include The Venetian Twins, Elegies, The Villain Of Flowers, Follies In Concert, Lounge Room Culture, The King of Laughter, After Dinner for the Edinburgh Festival, The One Day Of The Year, The Cat Lady of Bexley, the original production of Sydney Opera House Babies Proms: Meeting Mozart for CDP and the Australian musical The Hatpin for which she won a Sydney Theatre Award for best actress in a musical.
Film and television credits include Oscar And Lucinda, Corridors Of Power, The Cooks, All Saints, At Home With Julia, Tricky Business, Backberner and Puberty Blues. Michelle has also worked in animation, recording voices for several animated series including Gloria's House, Seaside Hotel, Deadly, Zigby, Enyo and Gasp.
She has performed in numerous radio plays and book readings and is regularly heard on Media Watch on ABC TV.
Michelle received a Sydney Theatre Critic's Circle Award and three other Sydney awards for best actress for her performances in Arcadia, Crimes Of The Heart and Japes. She is the recipient of the Gloria Payton/Gloria Dawn Fellowship and an Ian Potter Fellowship which enabled her to study at The Royal Academy of Dramatic Art (RADA) in London, HB Studio in New York and The International Film Workshop.